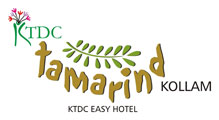 Kollam during Portuguese occupation was known as Quilon. With the warm waters of the Arabian Sea on its west, the present day city of Kollam was earlier famous for cashew processing and coir manufacturing. It is the southern gateway to the backwaters of Kerala and is a major tourist destination.
This 24 room property overlooks the Ashtamudi backwater and is located in a vast expanse of greenery. Guests can enjoy the splendid view to the backwater from all the 24 rooms.
Facilities
Rooms
A/C Deluxe Double - 24
Total rooms - 24
Restaurant
Boating facility
Speed boat
Pedal boat
Safari boat
Plan
Type of Room
1st Oct 2017 to 30th Sept 2018
EP
Deluxe A/C
1100

Govt. Taxes Extra
Check-in/ Checkout time: 12 noon


Breakfast (per person) -100 + taxes per person
Dinner : As per menu rate
NB: The tariff and taxes are subject to periodical revision. Customers please check the tariff and tax before making reservation.
Customers are requested to check the current tariff before making reservation
Nearby attractions
Boating in Ashtamudi backwater Kollam Beach, about 2 Km Children's park – ½ Km Police Museum, about 1 Km Thirumullavaram shallow beach, about 5 Km Munroe Island, about 15 Km Thangassery Lighthouse, about 5 Km Alumkadavu boatbuilding yard, about 28 Km Amritapuri, headquarters of Matha Amritanandamayi Trust, about 42 km Neendakara fishing harbour, about 8 Km Thevally Palace, about 4 Km
Reach us
Nearest bus terminal: Kollam, about 300 meters
Nearest railway station: Kollam, about 1 Km
Contact us
For Reservations
Tamarind KTDC Easy Hotel
Guest House Compound
Ashramom 691 002
Tel: +91-474-2745538, 2762568
Fax: +91-474-2762668
E-mail: tamarindkollam@ktdc.com
For specific assistance:
Mobile: +91-94000 08660