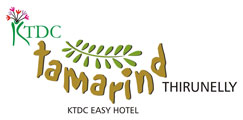 Thirunelly, the forested region in Wayanad, owes its popularity to the ancient temple here dedicated to Lord Vishnu. The temple is close by the Papanasini River and is at the foot of the Brahmagiri hills. Thirunelly, besides being a pilgrim centre, also attracts trekking enthusiasts and nature lovers.
Located in a valley surrounded by forested hills, the property combines the feel of wilderness and spirituality.
Facilities
Rooms
Non Ac Rooms :04
A/c Rooms :05
NonA/c dormitory 01(10 bedded)

Restaurant
Plan
Type of Room
1st April 2022 to 31st March 2023
DBL/SGL
Non A/C Deluxe
990
EP
A/c Deluxe
1600
Non A/c Dormitory(10 bedded)
3000
*GST Extra
Check in/out time:12 noon
NB: The tariff and taxes are subject to periodical revision. Customers please check the tariff and tax before making reservation.
Customers are requested to check the current tariff before making reservation.
Nearby attractions
Thirunelly Temple, about 1 Km
Tholpetty, Wayanad Wildlife Sanctuary, about 20 Km
Kuruva Island, about 25 Km
Pakshipatalam (trekking), about 9 Km
Reach us
Nearest railway stations: Mysore, about 130 Km / Kannur, about 130 Km
Nearest bus terminals: Thirunelly Temple, about 600 m / Mananthavady, about 30 Km
Contact us
For Reservations
Tamarind KTDC Easy Hotel
Thirunelly Temple P.O.
Mananthavady, Wayanad - 670 646

Tel: +91-4935-210475, +91-9447739472
Email: tamarindthirunelly@ktdc.com
For specific assistance
Mobile:+91-94000 08672