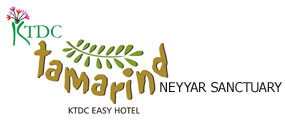 In the vicinity of the Neyyar Wildlife Sanctuary, the Agasthya House is located inside the premises of the Neyyar dam. This property of KTDC provides an ideal base for its guests to explore and enjoy one of the better known wildlife sanctuaries of Kerala.
Agasthya House is not far away from Thiruvananthapuram, the capital city of Kerala, which is noted for its historic background as well as the world famous beach destination of Kovalam.
Facilities
Rooms
Deluxe room - 07
Dormitory (8 bed) - 01
Total rooms - 08
TARIFF
Tariff from 1st October 2019 to 30th September 2020
Plan
Type of Room
1st Oct 2019 to 30th Sep 2020

EP

Non A/C Deluxe

1250

Dormitory

2400

GST Extra
Check-in/Check-out: 24 hrs
Meal Rate:
Breakfast: Rs.50 + GST per person
Lunch: Rs. 150 + GST per person
Dinner: Rs. 100 + GST per person
NB: The tariff and taxes are subject to periodical revision. Customers please check the tariff and tax before making reservation.
Customers are requested to check the current tariff before making reservation.
Nearby attractions
In and around the dam premises
Crocodile park
Lion safari park / deer park
Boating
Trekking

Outside the dam premises
Kappukad Elephant rehabilitation centre
Reach us
Nearest bus terminal: Neyyar Dam about 200 m, Kattakkada about 10 km
Nearest railway station: Thiruvananthapuram, about 26 km

Contact us
For Reservations
Tamarind KTDC Easy Hotel
Neyyar Dam
Tel: +91-471-2272160
For specific assistance:
Mobile: +91-94000 08688
E-mail:tamarindneyyar@ktdc.com