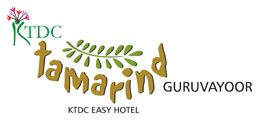 It is a major pilgrim centre in south India, located near the city of Thrissur in Kerala. The temple at Guruvayoor, dedicated to Lord Sri Krishna is many centuries old. Besides the temple, the nearby elephant care centre - Punnathoor Kotta is a major attraction here in Guruvayoor. The place is also associated with many scholars and poets.
This property having rooms in different categories makes it ideal for families, who arrive at this temple town of Guruvayoor for various functions associated with the temple. This property is very close to the railway station and is built on Kerala architectural style.
A pilgrim hotel with marriage hall and catering facilities
Facilities
Rooms
A/C Deluxe Double - 09
5 bedded A/C - 02
Total rooms -11
Conference options
Theatre type 60 to 100 (capacity)
Pure Vegetarian Restaurant
Plan
Type of Room
From 1st April 2022 to 31st March 2023 (INR)
DBL/SGL
EP
A/c Deluxe
1500
A/c 3 Bedded
1800
A/C 5 Bedded
3000
*GST Extra
Check in/out time: 12 noon
NB: The tariff and taxes are subject to periodical revision. Customers please check the tariff and tax before making reservation.
Customers are requested to check the current tariff before making reservation.
Nearby attractions
Guruvayoor Temple, about 500 metre
Mammiyur Temple, about 1½ Km
Parthasarati Temple, about 75 metre
Elephant Village, about 3 Km
Chavakad Beach, about 5 Km
Sree Kadampuzha Bhagavathi Temple, about 60 Km
Kodungalloor Sree Bhagavathi Temple, about 55 Km
Famous Athirapilly water falls, about 100 Km
Reach us
Nearest bus terminal (KSRTC/ Private): Guruvayoor, about 500 metre
Nearest railway station: Guruvayoor, about 200 metre
Nearest Airport: Nedumbaserry (Kochi) 87 Kms

Contact us
For Reservations
Tamarind KTDC Easy Hotel
East Nada, Guruvayoor
Thrissur 680 101

Tel: +91-487-2552408, 2560141
E-mail: tamarindguruvayoor@ktdc.com
For specific assistance
Mobile: +91-94000 08658