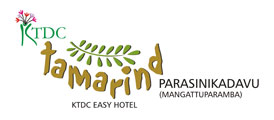 Situated about 20 km north of Kannur in Kerala is the temple town of Parasinikadavu. Here, the temple of Parasinikadavu Muthappan, dedicated to Lord Siva, by the side of the Valappattanam River is noted for its unique temple rituals. This temple is visited by people from all religions, caste and creed.
Located on the Kannur - Mangalore National Highway stretch, about 20 km from Kannur, the property provides a calm and rustic atmosphere.
Facilities
Rooms
A/C Double - 10
Total rooms -10
Restaurant
Check in/ Checkout time: 12 noon
Tariff (in Rupees)

Tariff from October 2017 to September 2018

Plan
Type of Room
1st Oct. 2017 to 30th Sept. 2018

EP

Deluxe A/C

1500

Govt. Taxes Extra
Check-in/Check-out: 24 hrs


 
NB: The tariff and taxes are subject to periodical revision. Customers please check the tariff and tax before making reservation.
Customers are requested to check the current tariff before making reservation
Nearby attractions
Parasinikadavu Muthappan Temple, about 4 Km Raja Rajeswari Temple, Thaliparambu, about 6 Km Payyambalam Beach, about 17 Km Ezhimala Naval Academy, about 15 Km Pazhayangadi Mosque, about 11 Km Vismaya Water Theme Park, about 2.5 Km Parasinikadavu Snake Park, about 1 Km
Reach us
Nearest bus terminals: Thaliparambu, about 7 Km / Kannur, about 16 Km
Nearest railway station: Kannur, about 16 Km
Contact us
For Reservations
Tamarind KTDC Easy Hotel
Mangattuparambu
Kannur University Campus P.O - 670 567
Tel: +91-497-2780220
E-mail: tamarindparasinikadavu@ktdc.com
For specific assistance
Mobile: +91-94000 08685