Ayurveda at Trivandrum
AYURVEDA - THE SCIENCE OF LIFE
Ayurveda is a holistic healing science, which comprises of two words, Ayur and Veda, literally meaning the science of life. Ayurveda lays emphasis on the prevention of body ailments in addition to curing them. It is the most natural way to refresh, eliminate all toxic imbalances from the body, and regain resistance and good health. It is five thousand years of wisdom distilled into a system of practice.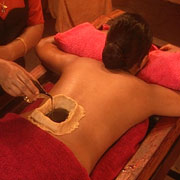 AYURVEDA & GODS OWN COUNTRY
The modern world is in search of effective, genuine and natural alternative systems of health care. For the ever-increasing number of health conscious tourists, Ayurveda is light in the darkness. Even though Ayurveda has got acceptance and appreciation worldwide, Ayurveda in its purest form is practiced only in Kerala. In addition to its serene beaches, tranquil stretches of emerald backwaters, lush hill stations and exotic wildlife, what one cannot miss is what you can't leave Kerala without experiencing - the healing touch of Ayurveda.
AYURVEDA AT KTDC
KTDC a government undertaking has been practicing Ayurveda in a very professional manner with no compromise on quality or service and has been appreciated by people from different countries. Qualified, Efficient and Experienced Doctors head the centre supported by professionally trained and well experiences masseurs and other technical staff. Our objective is to ensure that "Ayurveda tradition meets Quality, Hygiene and Luxury".
TREATMENT TARIFF
Revised Tariff
Sl. No
Treatment
Tariff (In Rs. )
1.
ABYANGAM
1200.00
2.
DHARA
1500.00
3.
ELAKIZHI
1200.00
4.
PIZHICHIL
1250.00
5.
NAVARA KIZHI
1250.00
6.
PODI KIZHI
1250.00
7.
UDWARTHANAM
1350.00
8.
HEAD MASSAGE
250.00
9.
HERBAL FACIAL FACE PACK
650.00
10.
THAKRA DHARA
1500.00
11.
KSHEERA DHARA
1500.00
12.
SIROVASTHI
1550.00
13.
UROVASTHI
1550.00
14.
KADI VASTHI
850.00
15.
SNEHA VASTHI
625.00
16.
KASHAYA VASTHI
625.00
17.
MATHRA VASTHI
375.00
18.
KADI KIZHI
1500.00
19.
THALAPOTHICHIL
1250.00
20.
PICHU
625.00
21.
NETRA DHARA
800.00
22.
NETHRA THARPANAM
800.00
23.
KSHARA SOOTHRAM
200.00
24.
KARNA POORANAM
200.00
25.
NASYAM
125.00
26.
ANJANAM
125.00
LUXURY TAX & SERVICE TAX EXTRA
LUXURY TAX - 12.5%
SERVICE TAX - 10.3%